It's easy to assume that promoting an app and a website requires pretty much the same strategies.
They both fall into the digital marketing realm, so how far apart can they be, right? Wrong. Of course, there are some overlaps, similar terminology, and they both require constant updates. But the means of going about these differ in nearly every detail.
If you're using the same marketing strategy for your app as you are your site, you're undoubtedly missing out on some low hanging fruit. App stores and search engines are two vastly different online spaces, with different requirements, restrictions and algorithms. Targeting your strategy can help leverage everything they have to offer.
We at Moburst, a mobile marketing agency, are here to delve into the details of how you should be separating your web and app marketing strategies.
ASO vs SEO: What's the Difference?
SEO is probably the more widely known term of the two. Standing for Search Engine Optimization, it's the process of optimizing a web page to get it the highest ranking possible in search engines to drive organic traffic to the site. You want to increase the number of website visits and relevant visitors. There are a variety of ways to do this, but we'll delve into that in a bit.
ASO stands for App Store Optimization. It's sometimes referred to as SEO for apps. Except ASO isn't trying to direct organic traffic to a site, but organic downloads of an app, by optimizing an app to get it to rank as high as possible in the app store. It aims to increase visibility for both the search results and browse-related traffic (e.g. category ranking and being featured under the "Similar Apps" section within a peer app's page).
The most important thing to remember here is that you can't utilize the same strategy for both.
With ASO, you're bound by the restrictions of the various app stores. Even between the two big runners, Apple App Store and Google Play, there are significant differences in requirements. For example, each app title has a character limit, screenshots must fit into particular dimensions, etc.
In iOS, the App Name and Subtitle can only be maximum 30 characters each. In Google Play, the App Name can be 50 and the Short Description 80. Whereas with SEO, you have much more leeway to take your web page in whatever direction you choose. Although certain techniques are bound to perform better than others, it's not required that you produce it with this in mind.
When it comes to search results listings, roles reverse and ASO is the one providing more leeway. In app stores, you can play around with icons, videos, screenshots, titles and descriptions in the search results pages. But when you Google search on the web, what do you see? Mostly just a long list of blue links and a whole lot of text. Visuals play a bigger role in this respect in ASO.
As for the factors that affect both ASO and SEO, you guessed it… They differ too. There's a huge list for both, and we won't cover them all (that's another topic for another day). For some idea, though, ASO is influenced by the app title and short description, screenshots and other visual elements, localization, the list goes on. SEO is influenced by UX, metadata, user engagement, among many others.
Keywords: Are You Using Them Right?
You've got to be tactical about your use of keywords, both in the world of app and web marketing. Nobody wants to read a keyword-stuffed text that offers little value beyond every potentially relevant keyword. Anyway, this isn't necessary for the App Store because it penalizes you for this, and it isn't necessary on a web page because Google is pretty clever and can understand what you're trying to say anyway.
One of the biggest differences is the fact that app stores only allow a limited number of characters for different metadata. For example, the App Store only allows subtitles of up to 30 characters, and Google Play only allows app titles of up to 50 characters. This severely limits the number of keywords that can be used, especially compared to web pages where the boundaries are endless.
You can only afford to use each keyword once to avoid maxing out on characters, so be extra strategic with what you choose. In the Apple App Store, using a keyword more than once doesn't impact your ranking anyway. This isn't the case for Google Play Store or the SEO world, where using keywords more can boost your ranking.
Interestingly, in the App Store, the app description is not indexable and therefore does not impact the ASO ranking, despite being the main bulk of the text. Keywords are less important here.
In the Google Play store, however, the keywords are indexed and do impact ASO. The same goes for web pages, where the keywords in the main bulk of the text certainly are indexed and do impact the ranking. The use of relevant and popular keywords, with low difficulty, is one of the most important elements of SEO writing.
As for keyword research, however, it's just about the only common thing between ASO and SEO. Why, you may ask? Well, there are certain metrics we use to validate keywords in both ASO and SEO. These range from keyword popularity/ search volume to keyword difficulty, with many in between.
You can use online research tools to find these metrics and establish which keywords are going to give you the best chance of ranking. Examples of platforms and tools we recommend are AppTweak, Ahrefs, MobileAction and SEMRush.
Whether you're trying to rank in an app store or on a search engine, the keyword difficulty, for example, will provide you with an indication of how difficult (or easy) it will be for the selected keyword to rank. This is the end goal of both.
Although the tools used for ASO and SEO keyword research may differ, (e.g. AppTweak for ASO and Ahrefs for web SEO), the metrics used and the subsequent evaluation processes are the same. This is because both ASO and SEO aim for the same end result in their respective fields – finding the right keywords and ranking higher for them.
How Does User Behaviour Impact the Marketing Strategy?
Since the web and apps are two different entities, it would be naive to expect user habits to be the same. Apps are mostly only for use on mobile devices and tablets, whereas web pages can be accessed on a desktop too. We're living in a mobile-first society, where the average US consumer spends around four hours on their phone a day. Within that, research has shown that nearly three out of those four hours are spent on apps.
This poses a challenge for tracking. Ultimately, research shows that many users will browse in an app before shifting to the web to make the final purchase. If one user switches between platforms (an app and a website), the marketing strategy must consider them a single user to avoid making bad customer acquisition costs (e.g. counting the same user twice when they switch from the app to a website).
The nature of mobile being on-the-go allows for extra ways to market to users, such as push notifications and geo-marketing to boost traffic and conversions. Geo-marketing is when marketers use a user's geo-location to determine part of their marketing strategy, such as sending you push notifications when you're near to a physical store.
You can also take advantage of timing, being able to understand at what points in the day users are most active on their phones. Which, considering that we tend to look at our mobile phones around four hours in a day, is a lot more frequent than web browsing (that isn't work related).
All of these usage habits are important to note when building your app and web marketing strategies.
Take Into Consideration the Marketing Funnel
The funnels differ due to the nature of a website being immediately accessible versus an app being available upon installation. The fact that you have to take action in order to access an app means an app's marketing funnel moves faster and is more geared towards immediate actions.
Conversely, a web page's funnel is more about curating an ideal user journey to reach the end goal of conversion. Instead of requiring an action from the start (the download) like an app, a web marketing funnel only requires action in the latter stages, e.g. making a purchase.
Are Mobile and Web Attribution the Same?
Mobile attribution tends to be the more difficult of the two. This is mainly down to the fact that it can break in so many places along the journey, which is: Campaign -> Store -> Download -> Engagement. However, the store doesn't transfer attribution data.
What often happens is that a user downloads an app days after seeing an ad online, and there is no way of attributing this traffic to its source. This means we have to use third-party services to do this for us; two key players that help solve attribution problems for mobile apps are AppsFlyer and Adjust.
Mobile attribution must cover the whole conversion funnel. In this case, that's the user reaction from seeing the ad, whether they install the app after seeing the ad, and if they do, how they behave after doing so.
Web attribution requires understanding and then attributing the touchpoints (the way a consumer can interact with your business) of a consumer journey through the web, both on mobile browsers and desktop.
It tracks users web events and collects them to attribute them to the site a user came from before the site in question. If a marketer sets attribution links up in advance, they can curate a targeted user experience that allows them to measure the influence of different web features on their overall goals.
Generally, the last non-direct touchpoint that engaged a user will receive the credit for the action. For example, if a user clicks on a Facebook Ad to reach a website, and then takes various actions that eventually lead to a purchase, the credit goes to Facebook.
Web attribution and mobile attribution work together to create a holistic approach to attribution. As users today our journey transcends channels, devices and platforms, so the process of attribution can be fragmented. We don't just use the web on a desktop or just use apps on a mobile device.
Even companies with a mobile-first ethos use web ads to improve the cross-platform/ device user journey to drive conversions. A user may see an ad on web social media but then make a purchase from downloading the app another day. Without cross-platform attribution, this could be mistaken for an organic lead.
Landing Pages: How Do They Differ?
Here, we specifically mean app pages as landing pages versus web landing pages. App pages as landing pages can't be changed and their points of engagement are fixed.
By contrast, a web landing page allows you to determine the points of engagement and minimize them to a chosen event, e.g. filling in a lead form, subscribing to a newsletter, downloading software, etc. For both, it's the first page where potential users are introduced properly to your brand and so it's important to set the right tone (even if the limitations of app pages make this harder). You want users to see the value in your app from the outset, right?
For mobile app landing pages, it's imperative that you keep your most compelling copy above the 'fold'. Just to remind you, the fold is the text cut off point where you either need to scroll or click 'read more' to read the rest. As you can imagine, a lot of users don't make it past this point. An app's most desirable features and the core marketing message should, therefore, be presented before it cuts off.
The goals we aim for, and the resources we have at our disposal, differ between app pages and web landing pages. The former gives us a template in which we place our text and visuals while the web gives us more flexibility, albeit – usually – with simpler goals: on web landing pages we want users to fill a form, buy a product, or subscribe to a newsletter.
On app pages, our primary goal is to have users download the app. However, we also aim to increase exploration of the app page – making users scroll through our screenshots and read the long description. These touch-points will tell us if they find our app interesting, and provide more data to optimize conversion.
A/B Testing 101: Mobile vs Web
The most important difference worth noting between A/B testing for apps and web pages is that for apps, you test the app page in the store, not the app itself. By contrast, websites are A/B tested themselves as visitors come directly to the site.
A/B testing for apps can be done via different platforms. If you want a free option for Android, then Google Play Experiments is the way to go. However, iOS doesn't provide any A/B testing tools.
If you're after a more data-rich report then you could opt for platforms such as SplitMetrics or StoreMaven. These mimic the look and feel of app stores, but the traffic they get from the testers' campaign isn't live store traffic and so may behave differently. At best, they're a close approximation of live store traffic. In this way, they differ from Google Play Experiments and websites in which you perform A/B tests on the actual potential users that you drive to the page.
Our tips for app A/B Testing:
Test for the graphical and textual assets; usually screenshots, orientation, videos and USPs.
Test different copy and designs against each other, but make sure there is only one change per variable so you can easily conclude what impacted the results.
Analyse the results so that you can both implement the changes and build future tests based off of them. What are the actionable items? Sometimes this requires tweaking concepts or combining the USP from one concept with the screenshots of another.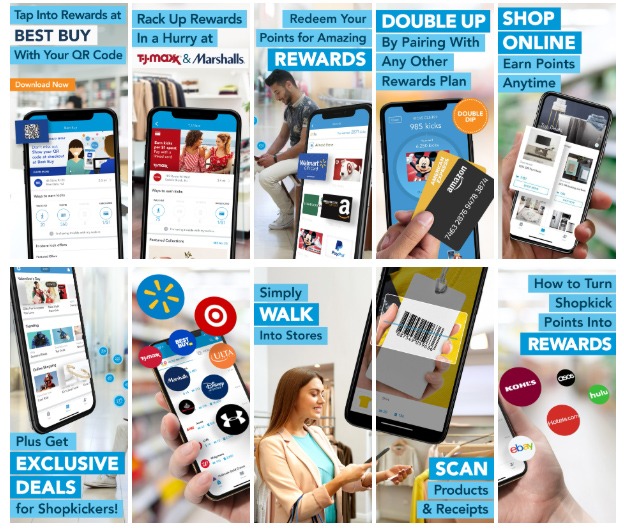 A/B testing for web is a method of showing different web page variants to different web visitors simultaneously and tracking which leads to more conversions. Although ultimately, the end goal is to segment variables to decipher what performs best, the means of doing so are different from that of app A/B tests.
There are different tools, e.g. Optimizely, and different protocols simply by nature of them targeting different behavioural tendencies, different devices and different platforms.
Conclusion
Let's recap on the similarities and differences between app and web marketing.
Similarities:
Organic ranking algorithms: They take into consideration the app and website's keywords, popularity and reputation.
Keyword research should be performed for both. They're a crucial discovery tool for new users which both web and app assets can benefit from. The metrics we use for this, e.g. keyword difficulty and search volume, are the same for both.
Mobile and web attribution often have to come together to create a holistic approach to attribution, when considering that many users toggle between both platforms.
A/B testing applies to both. Statistical best practices, good hypotheses and a hefty budget for testing are prerequisites for both.
Differences:
Organic ranking algorithms: In web, it's based on the quality of content, the amount and quality of incoming links, and the engagement metrics (e.g. bounce rate, time on site etc). On mobile apps, it's about ratings and reviews, category rankings (which affect keyword ranking), download velocity and conversion rates on the app page.
Keyword research in ASO requires far less long-tail keywords and at least 50% are branded keywords. Also, you're subject to far more limitations in ASO as app names and subtitles have maximum character counts.
The marketing funnel for web is less action-oriented at the start due to the fact that the conversion happens at the end of the funnel, e.g. with a purchase, whereas with app marketing an initial conversion is required in the form of a download.
Mobile attribution is far more complicated than web attribution as there are more disconnect points along the user journey.
Landing pages for web have more freedom to determine the points of engagement, as opposed to app pages as landing pages where the engagement points are fixed.
A/B testing for web marketing has many more points of engagement to choose from. There's no option for free testing for iOS, and if using the free platform Google Play Experiment's for Android it's worth noting that it's weak and provides few insights.
---
The two marketing strategies, although sharing some similarities, are generally more different than they are similar. If you want to get anywhere with either, it pays to take this on board. You can also check our brand new best mobile app development agencies in the UK and mobile app companies in Australia if you're looking for one.
Read the full article here