Do you know what makes a good mobile app different from a poor one? It's the UI/UX design!
UX/UI design has proven to play a major role in deciding the success of a mobile application. It has introduced itself as a way to reach the minds and hearts of customers and users by displaying engaging and interesting content and more.
But, do all designers and mobile app developers know about the best UI/UX design features? Do you know how the best mobile app development strategy works in this customer-centric world?
Unfortunately, no!
So, in order to simplify how modern mobile apps work and how they will evolve in the near future, we have compiled this mobile app UX/UI design guide for 2022. Of course, it is always a good option to work with experienced mobile app development agencies who already know about UI/UX tricks.
But before moving further, let's take a close look at the benefits of a great UX/UI design.
Benefits of the UI/UX Design Specialization
With the evolution of mobile applications, the expectations of users have also increased to a great extent. Earlier, mobile users never really paid attention to a lot of design features of their apps. They just wanted to get their work done in a simple and quick manner.
However, today's mobile app users want their apps to be easy to use, easy to navigate, fast, small in size and also very elegant. They don't like their applications to take more than a couple of seconds to load or take a lot of space in their memory. And this is exactly where an optimized UI/UX design becomes useful. Below are the main advantages to consider:
1. Highlights Brand Value 
Rightly said, "first impression lasts for longer". Believe it or not, today's users are capable of judging a mobile application by the way it looks. So, if your app doesn't look good, it will never attract your users. On the contrary, when your app looks very stylish and elegant, it will have a positive impression on users, which in turn will increase your brand value.
2. Helps in Building Connection with Users
As mentioned earlier, users want their applications to be easy to use, fast and simple with better engaging visual content. When your app has a great user experience, it will ultimately help you bond with your users.
3. Simplifies Mobile App Development Process
UX/UI design is no less than a boon for mobile app developers. It takes a fine-tuned approach towards making the best mobile app development strategy and simplifies the entire process. It is less time-consuming and hassle-free.
4. Boost ROI
The better your app performs, the better will be the user engagement, higher will be your sales and you'll be able to generate higher returns on investments.
Now that we have taken a walk through the major benefits and importance of a good UX/UI design during the mobile app development process, let's discuss the things that should be considered while designing a mobile app.
Things to Consider While Designing Mobile UI in 2022
There are many areas where mobile app UX and UI design differs from that of the desktop. Following are the factors that should be looked upon:
1. Screen Size
Mobile applications are the most convenient way of accessing and using information that was only accessible through a website, a decade ago. While building a mobile app, if you simply shrink the website to a size that of a 6-6.5 inch smartphone, the design will look congested and the navigation will also be very complicated.
As compared to desktop applications and websites where you have a bigger screen to display your information, the information on the small screen of mobile devices should be to the point and well thought out because the space is very limited. Hence, you should identify the information that is most relevant and important for the users. You should keep the information short and simple so that it keeps the mobile screen clean and well-organized.
2. Screen Orientation
The best thing about smartphones and tablets is that they allow users to change the screen orientation as per the ease and convenience of the users. According to a survey, around 94% of the time, users prefer using their phones vertically and the rest of the time horizontally. Moreover, the screen orientation also depends on the type of mobile application. For example: if it is a video streaming or gaming application, then users are likely to use it horizontally and not vertically.
Therefore, while designing a mobile app, you need to make sure that the user experience is great for both types of orientations. This will help the users to get use their mobile screen to the fullest and stay comfortable at the same time.
The best way to achieve this includes creating a mobile app that works smoothly in both orientations and placing the features and clickable icons in the places where users can reach comfortably.
3. Navigation and Input
Mobile users are equipped with just a screen to interact with the application. They don't have a mouse or a keyboard attached to their phones. Thus, you should provide them with a variety of input methods, such as a numeric and qwerty keyboard that is switchable.
Another navigation feature you must pay attention to is the gap between the action icons and also their size. If the icons are placed very close to each other, the users may easily misstep. Hence, you need to make sure that the buttons and icons are of a reasonable size and kept at a safe distance so that the UI doesn't look overcrowded.
Moreover, touch isn't the only thing using which users interact with mobile apps, they also use different gestures. Tapping, scrolling, and sliding are some of the common gestures used by mobile users. For example double-tap for zoom in, three-finger slide for taking a screenshot, etc.
Hence, make sure your app is compatible with all of these gestures.
4. Environment
Gone are the days when smartphones were used for casual purposes. Today, they are used widely in professional environments as well. In fact, they are used at all locations and can be used to accomplish professional tasks as well.
Therefore, make sure that your app can be used efficiently regardless of the location of the user. This can be done by using high contrast colors and icons so that the information is visible under every kind of lighting condition. The application should be fast and prompt enough to satisfy the needs of the users.
5. Make It Responsive
Paying attention to responsiveness is another great way to improve and enhance the mobile app design and its usability. The reason behind this is, when your design elements that are present on the screens have no restriction with respect to the device that is being used, users find it easy to perform any action. Overall, it encourages them to use your app to the fullest and spend more time engaging with your brand.
6. Use Popular Icons
When interacting with mobile applications and even other software on a regular basis, users become familiar with the icons. After using the app daily, they don't even need to read the label to use the functionalities. They simply look at the icon and get their work done.
By using good quality, clear and simple icons, you can cut down the need of educating the user about the use of a particular element. This will not only make your application more familiar to the user but will also increase user engagement which will eventually bring higher ROI.
So, make sure of popular and unambiguous icons in your UX/UI design strategy.
7. Follow Platform-Based Rules
This is a very crucial factor to keep in mind while designing a mobile app. Both Google and Apple have set their mobile app design rules for Android and iOS devices.
By following those rules, you can improve the look and performance of your app on the basis of the platform it is used upon. Hence, never ignore the platform-based mobile app designing guidelines.
8. Consider App Testing
Sometimes, the elements you've introduced in your app UI design, don't work the same way you've expected. If these mistakes pass without testing, they can completely ruin the user experience. While they can be fixed via updates, they will negatively impact your impression.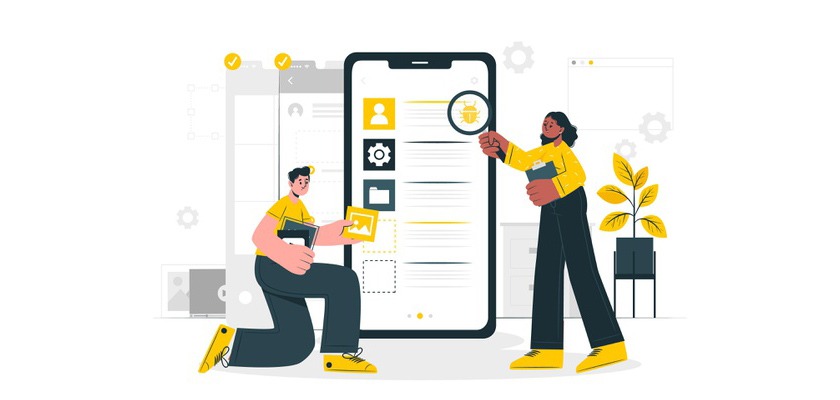 So, it is always better to invest in testing before launching the application. Make sure to test everything from the elements, icons to the screen orientation and so on. It will help you fix the errors before they get caught by your users. 
Moreover, when talking about mobile app testing, one thing that UX/UI designers must keep in mind is the depth of testing. By the depth of testing, we mean that the testing should be done according to the target market, users, and the purpose of the application. Also, it should be tested on at least three different operating systems. 
UX/UI design is the most suitable and seamless mobile app development strategy that is highly customer-centric. We have discussed the main areas that need to be worked upon while designing a mobile application in 2022. Follow these simple tips and build an app that will bring you more profits and ROI.
You can also check out the best digital marketing agencies in the world to find the best UI/UX design agency or top mobile app development agencies in the UK for your business.
Read the full article here