With the right SEO strategy, search engines can become a stage to reach your target audience and showcase your best performance as a startup or ambitious small business.
Mostly, startups and small businesses need to be heard by more people to create brand recognition. So, if you own one, you may start presenting your services and products with a well-structured website. The content on your website will be like a treasure for you since it will help your visitors understand your brand and know your business.
For sustainable visibility, here comes SEO (search engine optimization) that can help you rank at the top of search engine results regarding your keywords.
Moreover, valuable content that you share on your website and also social media accounts can help your SEO strategy. It is a dedicated plan, and you need to be careful of writing the original, helpful, and interesting content.
Thinking about how, and why, you may be a little bit confused. However, we can say that you don't need to worry. Fortunately, there are various SEO agencies that can support your startup, small business, or your scale-up. In addition, they have wonderful examples that can show you what can an SEO agency do with the best practices.
Even a little touch of your partner SEO agency can improve your content so much that it can be surprising to see the result.
Also, the user experience of your website is a really important thing to consider. Your SEO agency will have a detailed look at your website and make the necessary changes and suggestions for you to perform best in the search results.
---
Top SEO Agencies in the UK for Startups and Small Businesses
We have listed the best SEO agencies in the UK for your startup and small business. See the features they provide and find out the best partner for your ambitious goals.
Hallam
Hallam is the Winner of The Drum Awards Best for Organic Search, and the UK's most recommended SEO agency three times in a row. Google's top agency in Europe in 2019.
An emerging force in the UK digital marketing sector, Hallam has a strong track record and SEO industry awards to boot.
Since 1999, the agency has blended strategic thinking, creativity and technical expertise to create integrated digital marketing campaigns that deliver the only result that matters: business success. Whether you're starting local SEO or targeting national visibility, e-commerce or lead generation, B2B or B2C – Hallam can help your business thrive.
---
The SEO Works
As their name speaks for itself, The SEO Works is a digital agency that will make sure your SEO strategies work! With offices in London, Leeds, and Sheffield, they are ready to boost your ROI in the UK.
Their expert organic traffic team has experience in SEO campaign management for a wide range of industries including automotive, healthcare, education, and eCommerce. You can check their website to analyze their case studies from different sectors and ask for a free website review for your startup or small business.
If you need an expert SEO company to grow your startup's customer base, The SEO Works might be the agency you're looking for!
---
Impression
Here is Impression, a multi-award-winning digital agency in the UK, specializing in SEO, PPC, analytics, and digital PR aiming to deliver high-performance campaigns.
Let the experts help you engage your audience and convert clicks into customers.
Their ambitious team can create campaigns for you that have positive effects on your startup in long-term results.
They can build a successful SEO strategy that is in accord with your business goals. Also, their SEO approach includes technical, eCommerce, local, international, mobile, and JavaScript SEO, SEO audit, site migrations, content, and link building. We also listed Impression as one of the best SaaS SEO agencies. You can also check that list to find an agency that suits your business.
---
CEEK Marketing
CEEK Marketing is a digital marketing agency based in London, United Kingdom. They specialize in social media marketing, search engine optimization, pay-per-click advertising, influencer marketing, and website development. 
They offer a complete package to customers with a tailored approach to maximize the return on investment. As a Google Partner, CEEK Marketing's specialist Search Engine Optimisation team uses the latest algorithm change analysis to determine your website's content needs and technical relevance.
Digital Uncut
If you are in need of an SEO agency for your small business or startup, Digital Uncut may be your safe port. When it comes to organic traffic, they focus on one thing: The data.
Every decision is guided by it. That means conducting detailed keyword research to figure out exactly what your prospects are searching for, working out which keywords you're likely to rank for, and then focusing our efforts on those. That gives you the quickest ROI. And right at this point, Digital Uncut comes to your assistance as one of the best SEO companies and seeds your organic growth with data-driven SEO.
Digital Uncut believes that as paid marketing can be pricey, using the power of expert SEO to insert your business into the conversation and build brand awareness at the perfect moment is wise and this organic traffic is key to sustainable growth.
SmallGiants
Founded in 2019, SmallGiants is an experienced SEO Agency based in the UK. With organic and customized digital strategies that are tailored to each client's unique needs and characteristics, SmallGiants Agency is committed to accelerating the growth of early-stage businesses.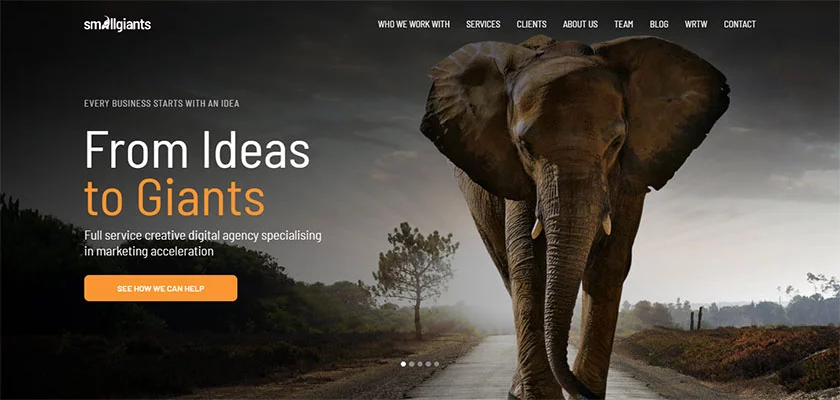 They collaborate strategically with investors in early-stage enterprises to help their portfolio companies and directly work with early-stage startups and existing scale-up businesses.
Bubblegum Search
Bubblegum Search, a digital marketing agency with offices in London and Surrey, offers a wide range of services, from Paid Media to Local SEO. With the help of Bubblegum Search's expert SEO services for small and medium-sized businesses in London and Surrey, you can gain a competitive edge in your industry.
Their specialized SEO agency will collaborate with you to develop a unique SEO strategy that is catered to your special needs. You'll gain more organic traffic, a stronger online presence, and those crucial leads and sales with Bubblegum Search.
---
Top SEO Agencies in the USA for Startups and Small Businesses
We present you a list of the best SEO companies in the USA that is based on a variety of criteria, including proof of on-page, off-page, and technical SEO expertise, case studies, and customer testimonials.
SEO Brand
Full-service SEO agency SEO Brand has more than 15 years of experience in the field of digital marketing. They seek to identify precisely what your customers are looking for online. When done properly, business owners and entrepreneurs alike ought to be able to connect with their potential clients in their area, county, or even state.
Organic research, data analytics, paid advertising, social media marketing, SEO and web design and development are among the services they offer. Through Google, Bing, Amazon, Facebook, Twitter, Pinterest, and many other digital channels, the company offers a wide range of alternatives that are specifically tailored to meet client needs for client acquisition and market share growth.
Ignite Visibility
Ignite holds itself responsible for clearly defined key performance indicators established at the start of each program. They adhere to the Ignite Visibility philosophy of the three "R's" of client satisfaction: relationships, responsiveness, and results.
Their SEO experts believe that a successful strategy starts with a deep understanding of our clients' challenges, objectives, and target audience. Keeping our employee-client ratio low, allows us to dedicate more time to each account, allowing us to build out an SEO strategy that aligns with your brand values and audience intent.
If you partner with Ignite Visibility your business will be assigned a dedicated specialist that constantly examines keyword performance, industry trends, and the competitive environment to discover and capitalize on opportunities as they arise.
Emplicit
Because they consider SEO an art and a science, the US-based SEO and Amazon marketing agency Emplicit describes itself as your future SEO partner. Their long-term initiatives combine content with technical elements, relevant authority-building, and continual reporting and refining.  eCommerce businesses that invest in their SEO services will see considerable long-term returns. SEO for eCommerce is a comprehensive strategy that combines listings on marketplaces like Amazon and Walmart with SEO for your DTC eCommerce site.
Customers can find your products more easily thanks to their techniques, which can increase sales.  Emplicit's Amazon SEO experts understand the anatomy of the perfect listing and their goal is to get you in the top eight 'slots' of Amazon's search rank.
Top SEO Agencies in Canada for Startups and Small Businesses
Canada has many reputable SEO agencies that have extensive knowledge about this service and superior experience. You can review the best SEO agencies in Canada and evaluate their case studies and reviews in line with your company's needs and priorities.
Pound & Grain
Pound & Grain is a digital agency with offices in both Toronto and Vancouver. The Pound represents big-picture creativity and strategic thinking. The Grain brings together audiences that produce results.
Since 2010, Pound & Grain has been trusted by exceptional clients and businesses to put digital marketing concepts at the forefront. Working hard, bold experimenting, learning from failures, and attempting the impossible is their approach.
With this "culture of hustle" of theirs and extensive knowledge and superior experience in SEO, it will be no surprise that you'll get solid results in no time. To see what they can do for your business' SEO marketing goals, you can pay a visit to their website.
Search & Gather
Search & Gather is a digital marketing agency in Canada specializing in helping businesses grow which might be a good opportunity for your startup and SEO strategy.
They work with you to set personalized, trackable goals, always continuing to test and optimize in an ongoing competition with themselves. You can check out their inspiring SEO case studies on their website to learn what to expect from them.
Top SEO Agencies in Australia for Startups and Small Businesses
Because your company's goals and demands are distinct, your digital marketing agency's first priority should be to understand what they are. The greatest SEO agencies in Australia are here to assist you with their extensive experience in this industry.
Devotion
Devotion is a full-service digital agency with extensive skills and experience, providing you and your clients with a smooth, efficient, and well-managed process from beginning to end.
Before they define your SEO strategy, they listen, ask questions, challenge, examine, and absorb as much information as they can about your startup and its customers. Workshops, stakeholder interviews, one-on-one research sessions, data analysis, search analysis, systems analysis, and third-party research are all used to accomplish this.
They can help you see your startup from a new perspective, regardless of whether you're a first-time entrepreneur. They aim to show you how to establish a scalable strategy, perceive the market through the eyes of your customers, empower your sales force by boosting their skills, and deliver brand-centric items that customers want.
Covert
Covert is an experienced SEO agency that is aware of the benefits SEO can provide for organizations. They are now ready to apply these advantages to your brand.
Shout Digital
Shout Digital's SEO team has more than 40 years of combined expertise in enhancing brand rankings across various industries.
As a respected SEO company, their first step is to learn about your startup's challenges and goals, as well as to investigate alternative budgets and methods. At their Melbourne SEO agency, they only employ the most appropriate, effective, and latest methods to design customized campaigns for your business.
It's part of their mission to dominate organic search from every angle possible. So, if you're searching for a digital agency that cares about results, holds people accountable, pushes the boundaries of effectiveness, and gets thrilled about the opportunity to do work that works, you've come to the right place.
Emote Digital
Emote Digital is a close-knit group of brilliant individuals that are passionate about their expertise and committed to producing great results. Their  SEO team lives and breathes search, employing best practices to keep your startup ahead of the competition.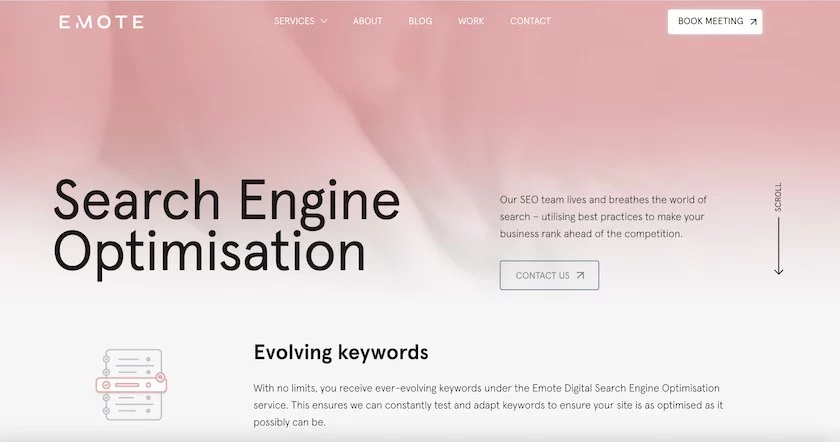 Under the Emote Digital Search Engine Optimization service, you will obtain ever-changing keywords with no restrictions. This allows them to constantly test and change keywords to ensure that your site is as optimized as possible. All of their SEO tactics are designed to bring you optimal traffic. They optimize the chances of conversion from search traffic by doing everything from selecting the proper keywords to ensuring users land on the correct page of your site.
Top SEO Agency in Asia for Startups and Small Businesses
Because your company's goals and demands are distinct, your digital marketing agency's first priority should be to understand what they are. The greatest SEO agencies in Asia are here to assist you with their extensive experience in this industry.
Ninja Promo
Ninja Promo specializes in developing innovative SEO strategies that make it simple for your ideal customers to find your company when they have a need for whatever you have to offer. Their professionals are continually up to date on the ever-changing world of SEO and can assist you in capitalizing on the numerous advantages that optimization provides.
As link-building experts who understand how to increase your visibility and authority across the web, Ninja Promo provides a broad variety of SEO services to enhance virtual traffic to your website. They make sure that all of your web pages are search engine friendly so that you can be found online. Also, they adhere to technical best practices to ensure your success in organic outcomes.
---
We have explained some reasons why you need an SEO agency. You can choose your SEO partner after discovering the advantages of the best SEO agencies for startups and small businesses from the list above.
Read the full article here