With the current popularity of reel videos, many video editing software for Instagram reels has appeared. It is often confusing for users to decide the one to get the best results. We have used those and tried to make a comparison of their features and tried to find the best one possible.
A new trend has become widely famous among Instagram users. Even though they were introduced only two years ago, reel videos have gained much popularity over posting photos or sharing simple videos. The most viewed Instagram reel has reached 289 million, and it is the biggest competitor of TikTok. 
The edibility feature of reels allows people to create videos as they desire. From funny videos to serious or romantic reels, people worldwide are so much into this new trend of video sharing. Businesses also get their piece of the pie. They can spread the word about their product, service or brand while increasing engagement with their audience. Have a look at these creative reel ideas for your business!
How to Edit Videos for Instagram Reels
Almost everyone is creating content for themselves or their small or prominent businesses. Video editing apps for Instagram reels help everyone develop their desired video content. 
People can give their message without dealing with third parties or having to publish traditional advertisements. Instagram reels can reach a significant audience with a simple and to-the-point message for the right target. 
Since the format is highly to be discovered, getting lots of people with a video you can create easily with the proper editing tools is possible. But what kinds of tools are we talking about? 
Since Instagram offers limited video editing features, it is essential to use other methods to stand out with your video. So, tools like video editing software and apps can help you create different and improved Instagram videos that will attract attention in the timeline.
Best Video Editing Software for Instagram Reels
Are you getting worried because you think video editing is complex and you won't be able to create eye-catching videos for Instagram? 
There is no need to be worried at all! 
With the user-friendly and convenient apps for editing reels that are recommended, you won't have any problems with your videos. Also, it will be easy to reach an audience for your Instagram profile. 
Here are some of the best video editing software for Instagram reels to find more followers, advertise your business and increase your chances in the industry.
Movavi
Movavi is hands-down one of the best ways to become better in video editing for Instagram. It has been around since 2004. So Movavi was able to develop more and more each year and become one of the best user-friendly editing apps. 
With over 3 million users around the world, it provides high-quality video editing features to everyone. Using these features, you can trim and crop your videos without losing their quality. Unlike most competitor apps, you can compress large videos to piece all your precious moments to create one beautiful Instagram reels video. 
Moreover, if you want to add subtitles to your reels videos, you can do it quickly and easily with Movavi.
Other than all these features, you can add filters and effects to your video for it to stand out! You don't have to write everything in the caption; you can simply use Movavi to record a voice-over for your video. These make your reels video different and eye-catching, so it is essential to use various features.
Soundstripe
What is an Instagram video without music and gorgeous shots to enhance it? This is where video editing for Instagram reels comes into play. You need to add a compatible theme to your reels video to draw attention, or else there is a high probability that it will bore the viewers and get lost in their timelines. 
While adding music, there is something you have to pay attention to copyrights. To avoid getting your video deleted by Instagram due to copyrights, you need to find royalty-free music, and this is the part Soundstripe can help you with the best. 
Being one of the best apps to make reels with music, Soundstripe provides its users with a library with more than 7 thousand royalty-free music composed by Grammy-winning artists. You can download the licensed music and edit parts of the songs easily for your use. Without dealing with copyright, you can have Instagram reels videos that will reach a great audience.
We should also note that SoundStripe does not only offer royalty-free music, but also it has 100.000 clips curated by award-winning filmmakers you can explore from. Through these clips, you can improve the aesthetic of your video and create a gorgeous timeline. With its user-friendly interface and reasonable pricing, SoundStripe is one of the best ways to develop your video editing for Instagram.
Animoto
Another software you can use for video editing for Instagram is Animoto. It is a video editing app for those without much time and requires a fast way to touch up their video. Used mainly by wedding photographers, businesses, and Instagram users, Animoto does not require a high knowledge of technology.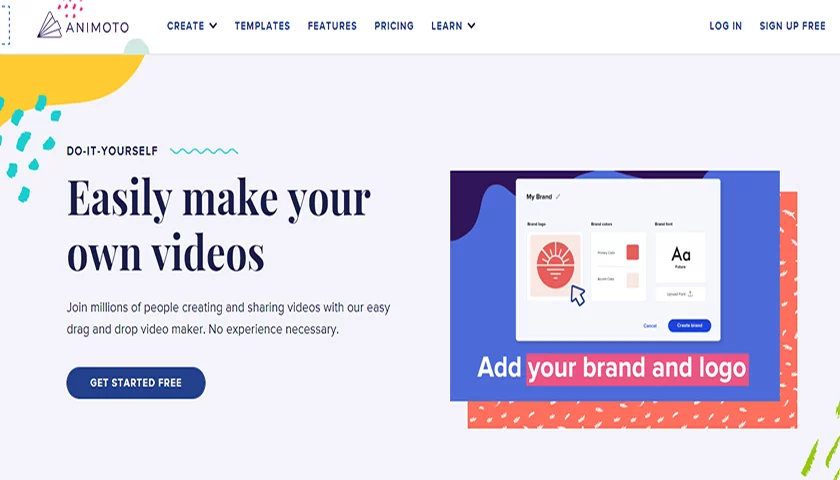 This allows anyone, even those who don't know much about Instagram or video editing, to edit their videos for Instagram reels. This feature of Animoto is making this app especially preferable for people who are not good at technology.
With the templates that Animoto offers to the users, it is possible to create an Instagram reels video within minutes. However, it is essential to know what you want your video to be like. You can change fonts, and color themes or upload images to create videos. With the suggested frames and syncing advice, you can enhance your video for your timeline.
The free and attractive templates of Animoto could be the main reason why it is used by many users. 
WeVideo
Used for daily videos, educational purposes, and business, WeVideo is another option for you to edit your Instagram videos. With the stock images, WeVideo provides, you can add video shots and pictures to your reels and make them longer or closer to your theme. 
It is an easy-to-use platform. So if you are a beginner in video editing, WeVideo can be a good option for you. You can access it through any computer and any device. We can say that it is an accessible video editing app also. 
One of the best qualities of WeVideo is the green screen feature that you can use to create amazing videos. You can crop whatever you want and add it to the green screen feature to change backgrounds.
Magisto
With its artificial intelligence intelligent video editor, Magisto is another good video maker for reels option for your Instagram page. With Magisto, you don't need to have videos beforehand. 
Instead, if you have images, you can use them to create slideshows or video collages with this Instagram video editing software. After you upload your pictures, artificial intelligence will edit them by adding sound effects and filters.
If you have reels videos you want to edit, Magisto offers to trim, cut, merge and reorder features. You can customize your videos by adding texts and filters, changing the colors, and using stickers. These are some fun ways to create videos for your Instagram profile and will surely improve your page's quality.
InVideo
InVideo is a video editing software that includes more than 5.000 templates for its users. With these templates, it is possible to create Instagram reels videos super quickly and in a very simple way. Since it provides music, filters, effects, and iStock media, it is a robust platform that has most of the things to edit a video. 
You are allowed to customize the templates, edit the audios of your videos and convert your text into videos. One of the most catchy features of InVideo is how you can create a group with your friends or colleagues to edit videos together. For example, are you collaborating with a group of friends or colleagues to create your reels video? You can add the person you are working with to the group and edit your video together. 
Since InVideo allows to create these kinds of groups, it enables Instagram influencers to create videos that can reach a greater audience easily.
InShot
As one of the most well-known video editing software for Instagram reels, InShot offers users many editing features. For example, you can add stickers or texts to your videos and sync them with the voice, choose filters and effects and adjust the speed of the video. 
To make your Instagram reels more interesting, you can also add your own music to the video. If you do not have any piece of your own, you can choose from the InShot Vlog Music library to edit your video.
Since the app's interface is user-friendly, it is easy to edit your videos or images. Even if you are a beginner, it is easy to learn InShot's interface and features. You can edit pictures and videos or create collages, and these require only a few taps. 
Since it is fast and easy, your video will be good to go just in a few minutes. In addition, you can export the videos you created with the desired quality. So this might come in handy when you need videos that do not take up space on your phone.
The Importance of Instagram Reels for Your Business
Instagram's Reels feature has been in our lives for some time now, and influencers, daily users, and businesses are starting to use it more day by day. 
An average Instagram user spends most of the time in Reels and encounters many easy-to-consume videos. Since these videos are relatively short and direct to the point, they can be good advertisement tools for your business page. 
Thousands of people scroll these videos every day. If you create a reels video, it will be possible for your business to reach these people. In addition, by creating a reels video, your brand's name will be on the Explore page for new people to encounter rather than just creating content for your followers.
You can also create a personality for your brand with the videos you create. For instance, if you share fun, short videos on the reels page, it might get the attention of the people who are into funny videos, and they can learn about your business while also having fun. 
Or you can create the educational type of reel videos and generate that kind of personality to attract people eager to learn on Instagram. These videos will give your business a voice and allow you to improve your content.
In addition, if you need to introduce your products to increase your sales, Instagram Reels is the best way to do it. By using reels instead of posts, you can reach more people and let them know about your product. 
They can ask their questions about the product by leaving a comment. And you can answer them in a new video that will grab the attention of even more people.
So, it is essential to use Instagram Reels for your business so that you can develop and grow your brand.
Read the full article here