Globally renowned sportswear giant Nike is at the top of its game right now. But as a leading sports apparel brand, their huge success isn't a surprise. Each one of Nike's campaigns tells a different story and takes the audience on a journey, so we gathered some of the best Nike campaign examples to date to inspire your own.
Nike's digital marketing strategy is supported by brilliantly successful ads. The company is not only selling products, but they are also selling the emotional benefits of the products. In short, they are selling the aspiration. That's the reason why the brand shows the promoted product to the audience only in few of their campaigns: They appeal to emotions instead.
Building Meaningful Stories and Taglines
Nike campaigns are really effective. They focus on creating meaningful stories to build a loyal fan base. The brand truly triumphs in inducing emotion in the customer through "emotional branding". Their carefully crafted ads aim to evoke particular feelings and put Nike products up higher in the eyes of the customers.
Throughout its history, Nike is known to tell its stories with a traditional narrative of a hero who overcomes hardship, never gives up fighting and leads to glory at the end. In most cases, the enemy says to the hero that "You can't", but the tagline comes to the rescue, saying "Just Do It".
---
Distribution Strategy
It's unquestionably important to have your customers talking about your brand. Nike creates exciting experiences that people would talk about and share with each other. Nike also has subsidiaries like Converse, Jordan, and Hurley. Different brands help them to grow their customer base.
Distribution strategy is another key component of Nike's digital marketing strategy. Through various channels such as retailers, e-commerce sites, resellers and supermarkets, Nike distributes their products worldwide to different segments of customers.
Targeting Strategy and Mission
As they're not only a footwear brand and are present in sports equipment, clothing, and many other categories, Nike often uses separate targeting strategies and campaigns for different product categories to remain at the top. They also regularly update their offerings using cutting-edge technologies like HyperAdapt in their product lines to always be the newest and the best in the market.
Their mission is "To bring inspiration and innovation to every athlete in the world" and, as we're all familiar with, their tagline is "Just Do It". They have a strong product portfolio in various interrelated business segments to retain their customers and provide a large catalog of products.
---
Financial Statistics
Nike's digital marketing strategy has proven to bring great victory for the brand. Nike is the most valuable global apparel brand, for the 7th consecutive year in 2022. They hold the largest market share with 15% in sportswear as of 2022. The company 's financial record is also strong: Nike was valued at more than 33 billion U.S. dollars in 2022, with an increase of nearly three billion U.S. dollars from the previous year.
---
As we mentioned above, highly creative and emotional campaigns are playing a determinant role in Nike's digital marketing strategy.
We have chosen 7 of these brilliant digital marketing campaigns of Nike from the latest years to show you how the brand attained success:
Nike: Play New
In 2021, Nike launched a new ad campaign titled "Play New". Created by Wieden+Kennedy Portland, the campaign emphasizes the joy of trying something new. Essentially, the film shows individuals trying a sport, and failing.
Nike is largely associated with consumers who actively take part in sports and their most famous ads feature sports superstars. This campaign, on the contrary, lets the regular customer shine. Just like the theme of the ad not being about winning and conquering, but failing at something.
The campaign underlines Nike's hyper-motivational approach, and the message is relatable to those who try but are not the world's best – a great portion of Nike's customer base. By addressing the actual users, Nike created a campaign that's honest and resonates well with its base. They're speaking to segments of their audience in a language they'll be able to relate to.
Nike: The Footballverse
Nike has done it again in their series of extraordinary World Cup ads, this time titled ''The Footballverse''. Their 2022 FIFA World Cup campaign made headlines when aired and for good reason. They elaborated on a question many football fans have in mind: What would happen if the best of the best faced each other? The short film features 12 legendary Nike footballers from the past and present and lets them play against one another in a visually stunning setting, to prepare for the World Cup in Qatar.
The Nike advertising campaign tells a story that will resonate with viewers from all around the world and from all ages, while also showcasing Nike's latest products, all in less than 5 minutes, resulting in an ad that is in and of itself a major example of creativity in advertisement. Honoring world-famous legends of the game, Nike turns the spotlight in the end to future heroes that are yet to rise, saying, ''You're Up'', managing to be both inspirational and aspirational.
Nike Air Jordan and Facebook Messenger Bot Collaboration
This unique Nike social media campaign is born from the collaboration between Nike Air Jordan and Facebook Messenger. For creating this campaign, Nike teamed up with conversational AI platform Snaps.
The project consists of a channel that delivers content from Air Jordan blog, Jordan.com, and Jordan News weekly to the users. The system is divided into 3 categories: Air Jordan, shop and watch.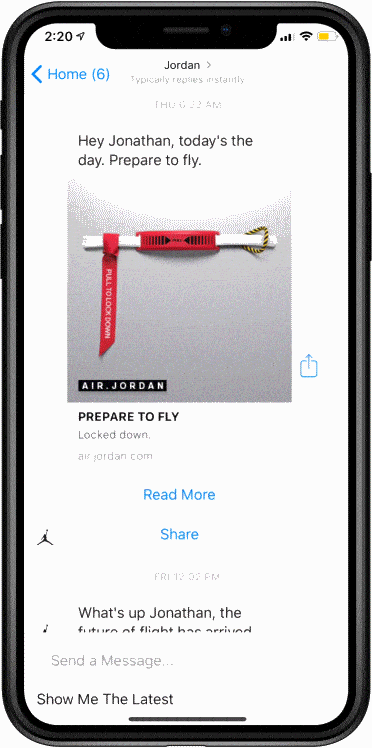 The Messenger bot enables two-way conversations from Nike aficionados and gives people a unique opportunity to connect with Nike's Air Jordan. The brand claims the bot is generating open rates of 87%, far outpacing the typical 15% to 20% we're used to from email campaigns.
Users can customize the notification time. The bot generates subtle responses to specific phrases, and it can lead readers to the Collection website with an external link and then help them to turn back to Messenger again. Unique campaigns using social media as the medium such as this one help Nike create new ways to integrate their products into the daily lives of their customers.
Nike: Reactland
To promote the launch of its cutting-edge new running shoes, Epic React, Nike developed a rich digital marketing campaign. The campaign hosted channels including mobile, social media, video and website.
The most striking element of the campaign is its immersive Reactland initiative that transports users into a virtual video game by creating their 8-bit avatars. With this project, users can experience the brand's latest sole cushioning technology.
The campaign created by Wieden+Kennedy Shanghai combines social media engagement, immersive experiential marketing and gamification.
Nike Unlimited Stadium
Have you ever raced with your own shadow? "Nike Unlimited Stadium" made it happen. Nike has constructed the world's first full-sized LED racing track in Manila, Philippines. The runners can compete with their LED avatars with the help of a sensor attached to their shoe in a 200-meter-long LunarEpic running shoes' sole-shaped track. This great project of Nike was conceptualized by BBH Singapore and digitally promoted by Birdman.
Nike: The Wonder Woman of Vogue
We continue our Nike campaigns with one in support of LGBTQ+ rights. The company has collaborated with a transgender Vogue artist and ballroom dancer Leiomy Moldonado for this short film to promote the #BeTrue collection and also to celebrate Pride Month. The video is produced by Public Record and directed by Daisy Zhou.
The project celebrates voguing, – a dance move previously performed by queer and transgender individuals in 1960s Harlem. The clip includes narration by artist Precious Angel Ramirez.
Moreover, the 60-second long ad pays homage to New York's underground "ballroom scenery" – a community that was created by impoverished Black and Latino LGBTQ+ youth as a place to safely express themselves and freely perform their dance.
Nike: Equality
Nike has launched a 90-second spot from Wieden + Kennedy Portland. The ad encourages athletes to respect and be fair to each other on and off the field. The ad directed by Melina Matsoukas features stars from the sports world like LeBron James, Kevin Durant, Serena Williams, Megan Rapinoe, Dalilah Muhammad, and Gabby Douglas.
The soundtrack "A Change Is Gonna Come" is from Alicia Keys. The initiative is centered on using Nike's voice and the power of sport to inspire people to take action.
---
There are many outstanding campaigns to discover in terms of sports marketing, and some of them belong to one of Nike's lifelong competitors: Adidas. Come check out Adidas' digital marketing strategy for more inspiration.
Looking for an agency to create an effective strategy for you? Check out all our member sports marketing agencies and filter them for your needs.
Read the full article here